Wild Bill Shirt Company
If you are looking for affordable, high quality silk-screening, embroidered apparel and more, look no further...
There's a New Sheriff in Town! Andy Warhol may have popularized silk-screening back in the '60s but Wild Bill has made it unique. We are silk-screeners gone wild! You name it, we can do it:
Custom silk-screening & Embroidery on apparel of all kinds
Affordable Printing for your home or office
Promotional Products for your next event
Graphic Design Services
Banners & Posters
Invitations
and More!
When you find what you are looking for, please contact us so we can discuss your needs in greater detail, or use our shopping cart to submit your order - our secure check out makes it safe, easy and convenient. If you are just browsing, click on our 'request for more information' option and we'll get back to you.

Featured Item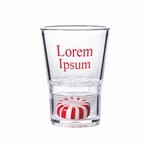 2 Oz. Flav-A-Shot™ Infusion Acrylic Sh...
Infusion acrylic shot glass two piece 2 Oz. acrylic shot glass. Place an edible condiment (such as candy, fruit, gum, licorice, chocolate, etc.) into the removable bottle compartment of the unit. Reas...
$2.70 - $3.42
Signature Showrooms